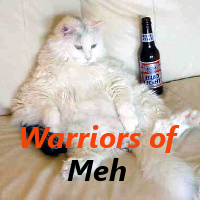 The Laziest agency...ever!
Information
Edit
Warriors of Meh
Welcome to the Warriors of Meh Recruitment page! Here is a brief summary of this agency. It is a US agency and I am the leader and I am pretty laid back which is why I also call this the laid back/lazy agency, we are brand new and really need some members looking to help grow this agency.
Our Goal!
TO RULE THE WORLD!!! By taking the easy/lazy way when possible and all the short cuts!
Recruitment
We are currently recruiting: Everyone to some extent We are currently looking for members who would be dedicated to help the agency. We don't care if you are lazy, laid back, or really active. We are looking for people who can follow orders, as well as think fast in battle. Prior FPS experience is helpful. If you meet these requirements then join! reply to this post and/or sign up on our forums
Members
1 Me-Captain
2 Osmarin-Officer
3 furypwna-Comando
4 Croaker-Soldier
5 TheSilentDawn-Soldier
6 RocEter-Soldier
7 Fredricton-Soldier
8 symulacra-Soldier
9 Pinklepants-Soldier
10 Kierin-Soldier
11 Rockdancer-Soldier
12 yuirick-Soldier
13 Coldcupofjoe-Soldier
Agency History
Our agency was formed in the middle of alpha testing, it started as Shadow of Heaven but with all the recommended names, one of them particulary grew on me recommended by Ten4GoodBuddy so I changed it from Shadow of Heaven to Warriors of Meh, thats about it. Also we have been getting a nice amount of members fast so we are growing yay for us!
Ranking
1. Captain-Leader of agency, you must be an officer and I must think you a trust worthy and helpful, and are the leading type.
2. Officer-Seccondary leader if im not here, works with me to organizes squads, and creates tactics for battles.
3. Comando-I must like you and you must be the leading type, also you need powerful equiptment. These are also squad leaders.
4. Special Ops-A rank gained by being active, helpful, and powerful at/past a certain extent
5. Soldier-The beginning rank.