PewPew is a Mature (18+) agency looking for players to join in on all types of activities including, PvE, PvP, AvA and Conquest. It's community focuses only on Global Agenda. Pew Pew seeks to unify potential friends and teammates in the common goal of becoming a powerful force within Global Agenda.
Information
Edit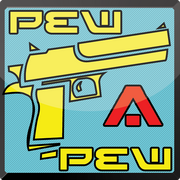 | | |
| --- | --- |
| Name: | PewPew |
| Leader: | MrCoder |
| Website: | www.pewpews.com |
| Location: | Based in UK / Any region welcome |
PewPew was born during the Global Agenda Beta. It grew rapidly as Global Agenda moved closer to launch. To date, Pew Pew has adopted several Agencies under the Pew alliance and now has 60+ members.
Community
Edit
Prospective Members:
Edit
Currently, any applicant over the age of 18 is welcome to join Pew Pew. Interested parties are encouraged register and apply within: Pew Pews - Forums
Current Members and Initiates:
Edit
Initiates that participate to at least some marginal degree will be swiftly promoted to member. The requirements for current members are simple to follow; treat fellow members with decency and respect, and enjoy being a part of one of GA's great Alliances/Agencies. It is recommended that all members change their character's colors to Pew Pew's yellow and teal. Members are encouraged to participate in Alliance/Agency events whenever possible, although regular participation is not entirely expected nor required. Registration and participation in this online discussion board is also encouraged. Referrals to individuals seeking to join an Agency/Alliance is greatly appreciated.
Officers/Administrators:Edit
Officers are expected to treat all members with the utmost respect and they should expect the same from members. Pew Pew officers are usually laid back and friendly people, so don't be afraid to ask them to join you on PvP or PvE! However, if members become disrespectful of other members or our rules here at Pew Pew, officers have the authority to deal with these members accordingly.
"If all else fails pew pew!"
"Pew Pew needs you!"
My Dick goes Pew Pew on your Mother.